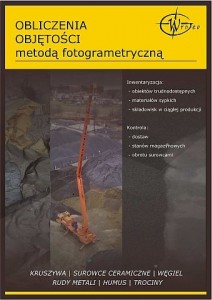 If you want to know more about determining the volume by the photogrammetric method, feel welcome to view the following presentation.
It was created as a result of our experience gained at the premises located all over the country: starting in Starogard Szczeciński in the north, through Bielsko-Biała in the south as well as Gromadka near Bolesławiec in the west and ending in Przeworsk in the east. At the objects in continuous production, where aggregates, ceramic raw materials, coal, metal ores, humus, or even sawdust are stored. Most of these materials are loose which are difficult to measure directly.
Photogrammetric determination of volume (5,52 MB version).pdf
Photogrammetric determination of volume (2,25 MB version).pdf
It should be noted that the measuring - computing method developed by us has become increasingly popular among our clients for whom quality, accuracy and reliability of the results is of utter importance. Short measurement time at a subject, objectivity and capabilities of inventories of objects (inaccessible for direct measurement ) are additional advantages of the method. All these features cause the method significantly exceeds the traditional techniques often burdened with major errors and vulnerable to subjective generalisation.